If you are an advisor, investor, mentor or other kind of business professional you can be certified in the Impact Business Modeling System™.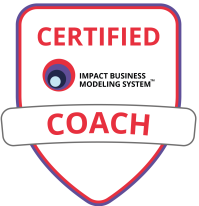 Although the Impact Business Modeling System™ is used by many different kind of business professionals, the aim is the same. They like to help companies with sustainable solutions to get their positive impact operational, measurable and profitable.
When we have certified business professionals in the entire system, they can coach companies in Impact Business Modeling on their own.
As a certified coach in Impact Business Modeling you will always have online access to the curricula, tools and training modules, as well as impact business cases – continuously updated for you to coach companies.
🔴 Be the best impact coach ever
🔴 Tools and cases at your finger tips
🔴 A logic process to coach startups