An accelerator, incubator, startup hub, VC fund or other organization advising and investing in impact startups, that like to set up Impact Business Modeling programs on their own have to become a License Partner.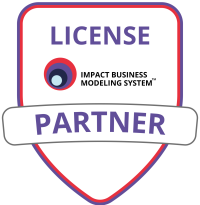 As a License Partner, people in your team will be certified in the Impact Business Modeling System™ to:
Coach your portfolio companies directly and get their impact measurable, operational and profitable
Get a valuable methodology into your existing program or set up your own 10-session programs
Get measurable impact reported from your portfolio companies
 Market, sell and implement Impact Business Modeling programs with partners in your own market
Certification & Membership
The startups (or scaleups and SMEs) in all your programs become certified in Impact Business Modeling System™. This includes a membership with access to all digital training material, workshop modules and impact business cases, to continuously improve and refine their impact business model.