An accelerator, incubator, startup hub, VC fund or other organization advising and investing in impact startups, that like to set up Impact Business Modeling programs on their own have to become a License Partner.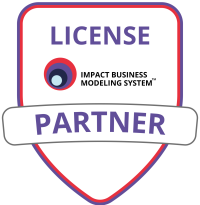 As a License Partner, people in your team will be certified in the Impact Business Modeling System™ to:
Get a logic methodology into your existing portfolio management
Coach your portfolio companies directly and get their impact measurable, operational and profitable
Get measurable impact reported from your portfolio companies
 Manage and implement Impact Business Modeling methodology with partners in your own market
Certification & Membership
The startups (or scaleups and SMEs) in all your programs become certified in Impact Business Modeling System™. This includes a membership with access to all digital training material, workshop modules and impact business cases, to continuously improve and refine their impact business model.