If you are an accelerator, incubator or other organization advising and investing in impact startups, and like to set up Impact Business Modeling programs on your own you have to become a License Partner.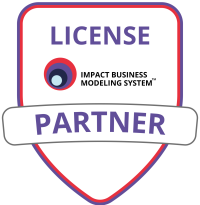 As a License Partner one or several people of your team will be certified in the Impact Business Modeling System™. You can either coach single companies or conduct programs with a group of companies.  
You will also be able to develop, and market programs based on the Impact Business Modeling System™.
We will support you in building a coaching business that is profitable all year round, continuously  accrediting companies in Impact Business Modeling.
You can also become a certified trainer in the system, so you can train and build a network of coaches in your market – and deliver several programs at the same time.
🔴 A logic tool to screen and assess impact startups
🔴 Get a valuable methodology into your program
🔴 Help your portfolio companies to get their impact right
🔴 Leverage from a pool of certified coaches
🔴 Get measurable impact reported from portfolio companies